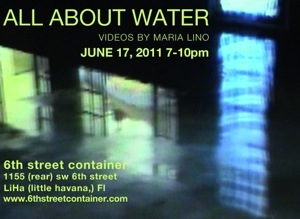 June 17, 2011 7-10pm
6th street container
1155 (rear) sw 6th street LiHa (Little Havana) Fl
To Maria Lino, water is a treasure that we seek for both internal and external survival.
It safely cradles us in the womb and supports us as we float on its surface. It can also overpower us
regardless of our physical strength.
Water can be a barrier between two destinations, and as an artist navigating two cultures separated
by a body of water, it has defined her sense of isolation and connection, of safety and freedom.
Ms Lino has always lived in port cities. She now lives in South Florida where humidity is a constant palpable sensation.
She produces multi-channel video installations recreating this feeling, and in the process, rediscover the landscape of home, its light, physicality, atmospheric changes, and the enticement of being voluntarily in water, whether for pleasure, adventure or escape.
Maria Lino's process is dynamic and interrelated to my daily activities. She observes and records the landscape and the cityscape, and their reflections in any appearance of water: morning dew, rain, puddles, or the ocean.
---
Link to the original article