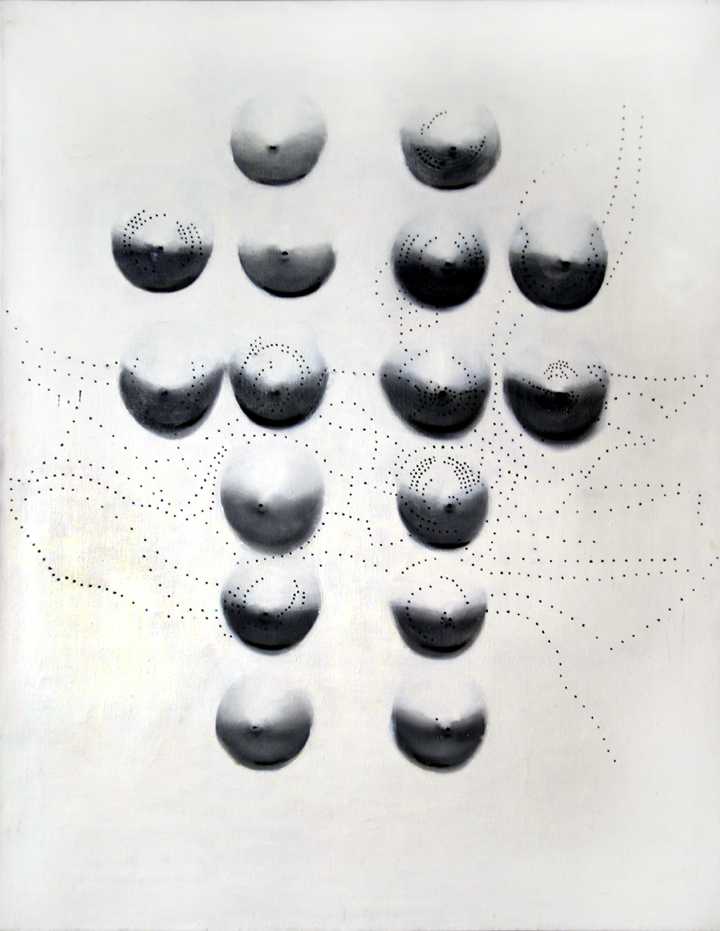 Agustín Fernández Solo Show in NYC. -Get seduced into lingering on the border of visual perception. Agustín Fernández: Drawings and Collages (1960s–1980s) invites viewers to explore the underlying questions at the root of vision. The exhibition of the Cuban artist's enigmatic drawings continues at the Mitchell Algus Gallery in New York City throughout December.
Most of the mysterious, dream-like images, created with graphite on paper, exist in black and white around white space. One sees but does one understand? The dark circular apertures resembling breasts on works like Nude from 1969 (featured above) are both opaque and sheer. They create a geometric yet fashionable facade that makes one question the perception. What are the spheres representing? Well that is part of his art. To make one question. Using simple shapes from nature Agustín Fernández invites us to ponder our reality.
Born in Cuba in 1928, the surrealist painter lived in Paris throughout most of the surrealist era throughout the 1960s. He held international shows with fellow avant-garde Latin American peers, including Chilean Surrealist Roberto Matta, and fellow Cubans Wifredo Lam and Emilio Sanchez. In the 1970s, he was already situated in New York City, where he lived the remainder of his life.
---
Link to the original article