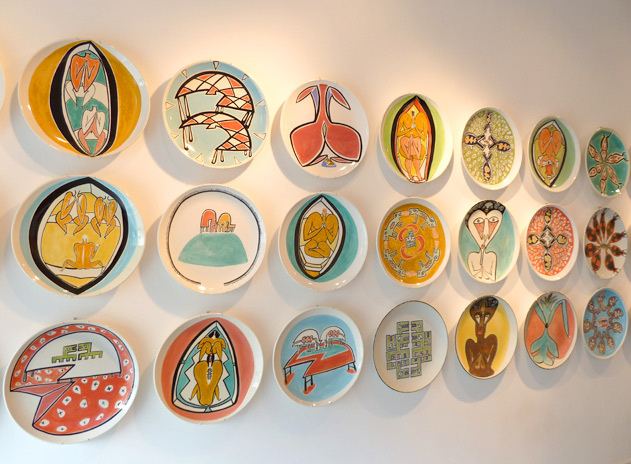 Accent Alternative Art Space to serve Miami a "Full Plate" featuring the work of Julio Antonio
Opening receptions:
Thursday, October 14th, 2010. 7:00 – 10:00 p.m.
Saturday, October 16th, 2010. 7:00 – 10:00 p.m. as part of the new Bird Road Art District Art Walk
Location:
Accent Alternative Art Space. 4841 SW 75th Avenue Miami, Florida 33155
Dates:October 14th – November 8th, 2010
Admission: Free
On Thursday, October 14th Accent Alternative Art Space debuts "Full Plate"; a collection of 100 ceramic plates and works on paper by Miami artist Julio Antonio.
Exquisite free-hand patterns grace these ceramic plates, in this extraordinary production inspired on the island of Cuba, the human figure and sundry animal forms.
Julio Antonio's style, with its Fauvist and Blue Rider echoes, is a joy to behold in its simplicity; a wonder in its fecundity – a veritable tour-de-force exploring the endless possibilities to transform the commonplace into objects of beauty.
"The sheer vibrancy of this collection is testimony to the creative drive of a master craftsman in full command of his art," said Esteban Blanco, founder of the non-profit gallery. "It is a dazzling demonstration of how to make the extraordinary seem easy".
Cuban-born artist Julio Antonio is a graduate of the Instituto Superior de Arte and the San Alejandro Academy of Fine Arts, Cuba. Considered a keystone integrant of the Cuban artist community outside of the island, Julio Antonio taught many of the prominent exiled artists while a professor of Art in Havana. His work is included in the Whitney Museum of American Art and the Museo de Arte Contemporaneo of Málaga, Spain, among many others. Some monotypes of the same series shown in the exhibition are part of the collection of the McArthur Foundation.
Open by appointment. Please contact Miriam Blanco at 305.968.3776
Accent Alternative Art Space
4841 SW 75th Avenue
Miami, FL 33155
www.julioantonio.com
---
Link to the original article