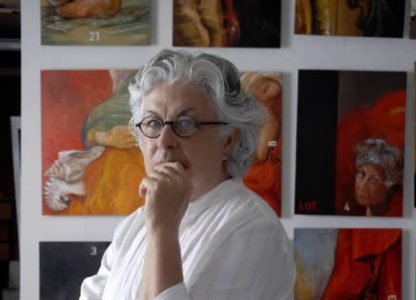 Cuban-American artist Lydia Rubio was just featured in the August 2021 edition of Hudson Connection. The magazine is from the Northern Columbian County in the Hudson Valley. Rubio described the area as a "new Arcadia" for American Contemporary artists. Hudson's growing reputation as an art hub and its proximity to Manhattan's art world attracted Rubio. She resided there for many years as she taught architecture at Olana University.
Though Rubio has been an artist for most of her adult life, she studied architecture. Her father was an engineer and her mother was an artist, so she studied architecture to appease them both. She received a Master's in Architecture from the Harvard School of Design.
As mentioned above, Rubio's mother was an artist. In fact, she comes from three generations of women painters. "My grandmother painted every day, whenever she could," Rubio expressed to the Hudson Connection. Born in Havana, she had art already running through her veins. She left Cuba when she was fourteen for Puerto Rico. Then later relocated to the states for her education.
In the article, she delves into the highlights of her award-winning forty year career. The Cuban-American artist also describes her approach to art. Self-taught from an early age, she prefers techniques that she trained herself to adapt. Rubio felt art school to be unnecessary for her development.
---
Link to the original article