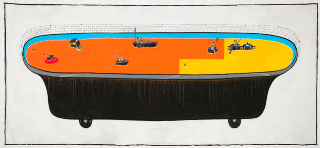 Pan American Art Projects is proud to announce our representation in Florida of Luis Cruz Azaceta with the inauguration of his first exhibition at our gallery from October 23rd through December 7th, 2010. The show will mark his return to the Miami art scene.
Trajectories/Trayectorias is a major exhibit which will occupy the entire gallery, and will include several works from the solo show Swimming to Havana presented at the New Orleans Museum of Art earlier this year. In the central piece of the exhibit Hell Act (2009) the artist ironically depicts a fleet of makeshift rafts aimlessly and helplessly bobbing around like toys in an enormous bath tub; the work illustrates the artist's constant struggle with the isolation, loss, and inexorability of being an immigrant. Also included in the exhibit will be works like Spill: Where is Superman when you need him, (2010) from his most recent series Spill. The piece touches on the inadequacies of human solutions and institutions in the face of catastrophe. There will also be sculptures, installations, and paintings from other recent periods included in the show.
Azaceta's visual language has a powerful sense of distortion, highlighting a juxtaposition of agony and humor. This year marks 50 years since the artist's departure from his birthplace, his first world and the one that has continued to be present in him throughout his creative journey. The Swimming to Havana series expresses the bittersweet impracticality of a distant desire to return to the past.
The artist's fearlessness and determination to explore controversial issues has gained him recognition as a key figure in American contemporary art. In 2009 he received the Joan Mitchell Foundation Grant, which followed other important fellowships and grants, from the Guggenheim Foundation, the National Endowment for the Arts, the New York Foundation for the Arts, and the Cintas Fellowship for Cuban Artists. Luis Cruz Azaceta's work is in important collections such as the Metropolitan Museum of Art, MoMA, the Whitney Museum of American Art, the Smithsonian Institute of Art, the Museum of Contemporary Art (MARCO) of Monterrey, Mexico, and the Fine Arts Museum of Caracas, Venezuela.
For information please contact: 
Janda Wetherington
Carolina González
Pan American Art Projects 
2450 NW 2nd Avenue 
Miami, FL 33127 
Ph: 305.573.2400 
www.panamericanart.com
---
Link to the original article