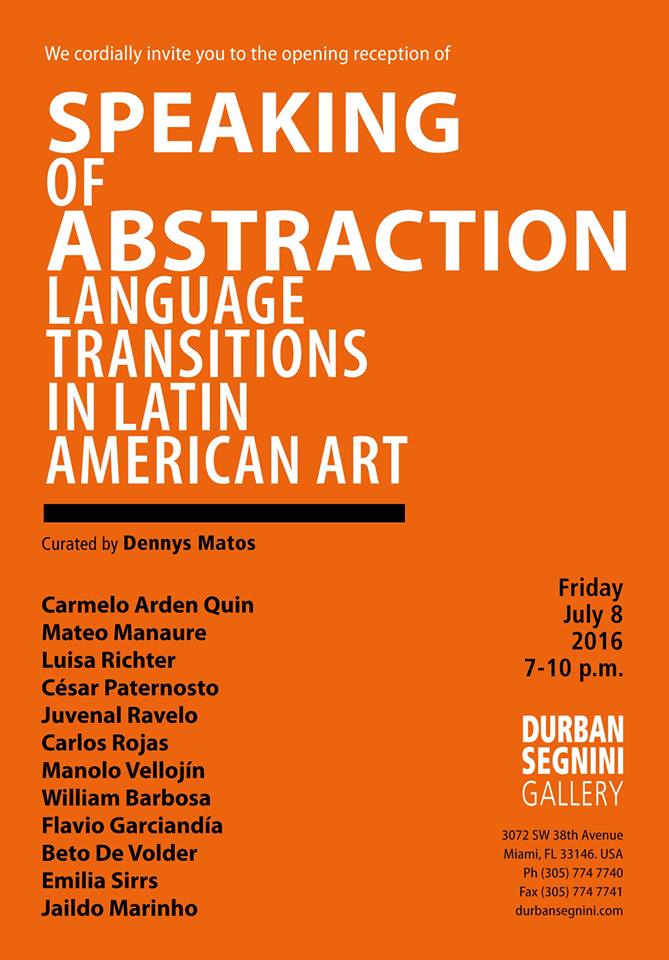 Opening Reception: Friday, July 8th 2016, 7PM
Curated by Dennys Matos.
Durban Segnini Gallery 
3072 SW 38th AVE.
Miami, FL 33146
Durban Segnini Gallery presents a splendid selection of 12 crucial artists for understanding the language development of the Latin American Abstraction, representing Argentina, Brazil, Colombia, Cuba, Mexico, Uruguay and Venezuela.
The exhibition includes 33 works among drawing, painting, mixed media and sculpture, offering the viewer a wide aesthetic itinerary of Abstraction in its various manifestations.
"Speaking of Abstraction (…) ¨ considers more than six artists' generations whose contributions and paths made of Abstraction the most influential tendency in the historiography of Latin American contemporary art of the twentieth century.
"Speaking of Abstraction: Language Transitions in Latin American Art" offers through a selection of 33 works including paintings, sculpture, mixed media and drawing, a unique opportunity to review and understand the language development of the Latin American Abstraction.
This exemplary review includes twelve prominent artists, among which are great masters such as Carmelo Arden Quin (Uruguay), César Paternosto (Argentina), Carlos Rojas (Colombia) or Mateo Manaure (Venezuela). Also joining them new promising generation of abstract artists such as Flavio Garciandía (Cuba), Jaildo Marinho (Brazil), Emilia Sirrs (Mexico) and Beto De Volder (Argentina).
---
Link to the original article